Catherine Tallon-Baudry, Visual Cognition Group / Laboratoire de Neurosciences Cognitives
Catherine Tallon-Baudry is head of the Visual Cognition Group within the Laboratoire de Neurosciences Cognitives. She has just received a grant from the ERC for the project Brain-Viscera Interactions Underlie Subjectivity (BRAVIUS).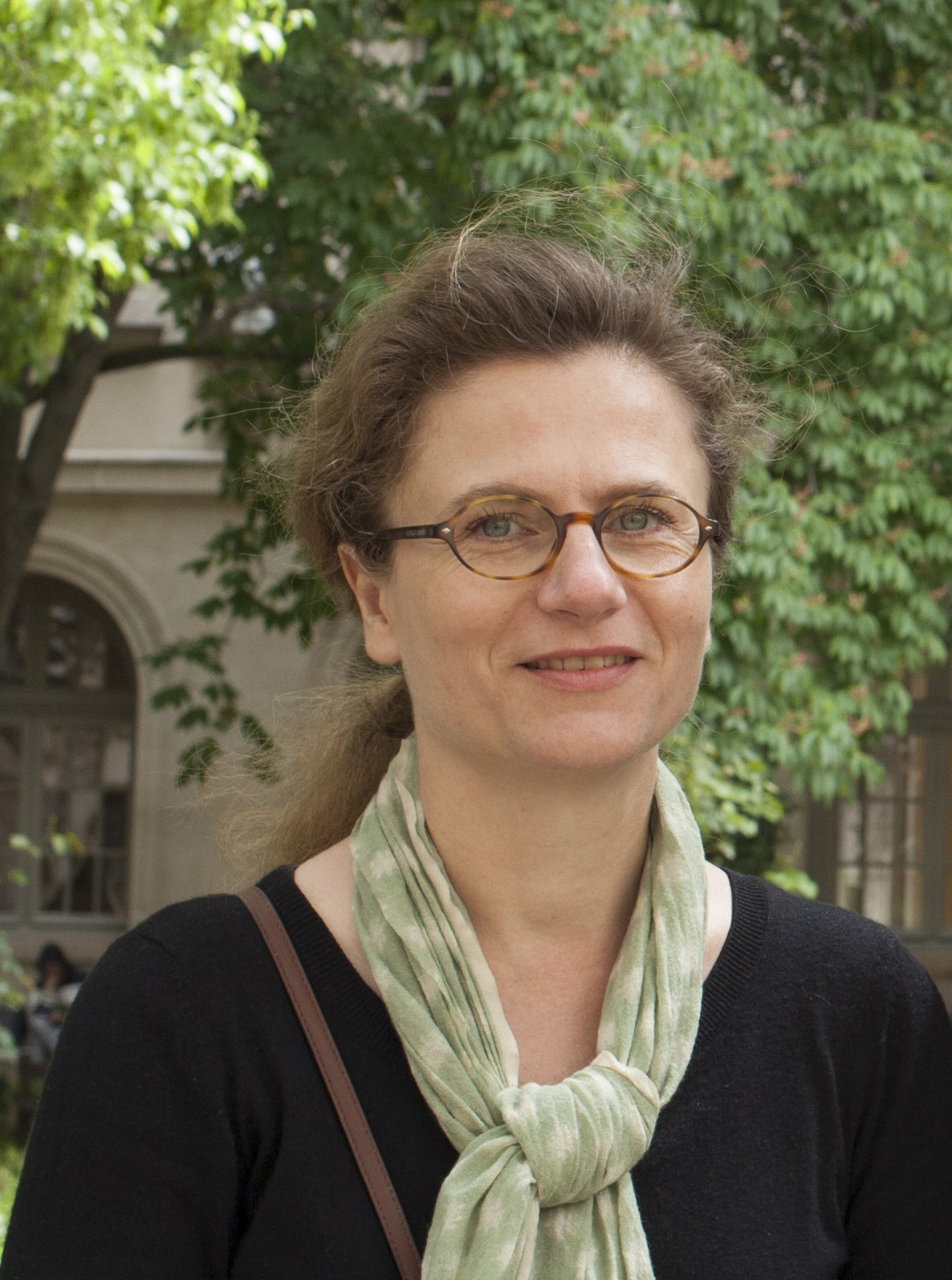 After a fairly typical education---French preperatory school, biology at the École Normale Supérieure in Lyon, then a PhD in Cognitive Neuroscience on the role of gamma oscillations in humans---Catherine Tallon-Baudry spent two years in Germany working with primates before leaving to return to Lyon. A few years later, she joined the Hôpital de la Pitié-Salpêtrière in Paris. Her research led her to focus on the domain of consciousness, and in 2012, she created a new team within the Department of Cognitive Science: the Visual Cognition Group of the Laboratoire de Neurosciences Cognitives (LNC).
The Visual Cognition Group attempts to understand how neural dynamics create visual experience, on both a cognitive and subjective level. The team mostly uses MEG and EEG with healthy subjects, but also intracranial EEG with epileptic patients, in combination with behavioral experimentation. The goal of the Visual Cognition Group is to propose a neural structure of conscious vision that includes experimental and subjective characteristics as well as cognitive faculties. Within the DEC, Catherine Tallon-Baudry's work benefits not only from the interdisciplinary environment necessary for the study of consciousness, but also from the expertise in cognitive neuroscience available at the LNC.

Catherine Tallon-Baudry has just received financing from the ERC for the project BRAVIUS:

"This project is based on an observation: the notion of subjectivity, although central to our understanding of the human mind, is not a concept that is present in cognitive neuroscience, which makes it different from a notion such as attention for example. Yet subjectivity is present in the background of many studies which focus on perception, emotion, or choice. In this project, I propose a generative mechanism for subjectivity: electric signals which are constantly emitted by visceral organs like the heart or stomach are relayed to the brain. These signals could help to generate a central reference based on the subject, and therefore be at the basis of the development of subjectivity. The project will attempt to study the impact of visceral signals on neural dynamics and to test the link with subjectivity."

Catherine Tallon-Baudry took advantage of the interdisciplinarity present within the DEC in order to design her project: "My colleagues at the DEC, who are trained in neuroscience, psychology, and philosophy, proofread my ERC project before I submitted it, and their comments were very important to me."
Laboratoire de Neurosciences Cognitives website
Visual Cognition Group
Jean-Nicod 2015 Awards and Conferences: David Chalmers (New York University)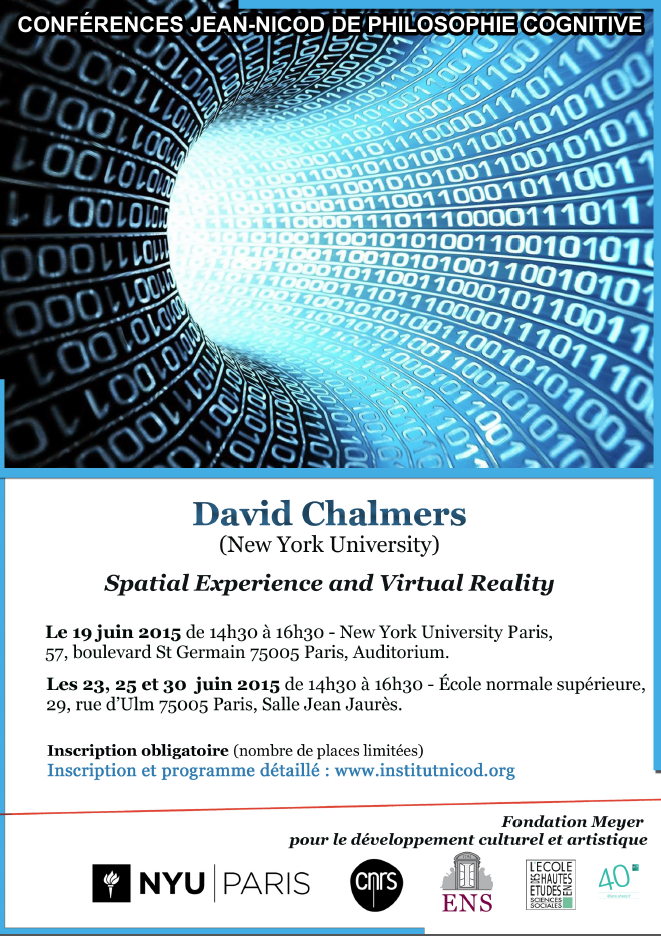 The Jean-Nicod Lectures focus on the promotion of philosophical research aimed towards cognition, and to boost recognition of work done on this subject internationally. The invited speaker and laureate of the Jean nicod prize present their work during a four-installment conference series which is then compiled into a book.

David Chalmers, professor of Philosophy and co-director of the Center for Mind, Brain, and Consciousness at New York University will receive the 2015 Jean Nicod Prize.

David Chalmers started by studying mathematics in Australia before beginning a PhD in Philosophy in Cognitive Science at Indiana University. He then taught at UCSC, the University of Arizona, as well as the Australian National University where he is Distinguished Professor of Philosophy. David Chalmers is known for his work on philosophy of mind, philosophy of cognitive science, and metaphysics. He contributed to the clarification of problems posed by the scientific research of consciousness. In many classic publications, he supports the theory of naturalistic dualism. For the last twenty years, his research has focused on questions related to the theories of content, language, and artificial intelligence. Chalmers is one of the main players in interdisciplinary research on the conceptual and methodological foundations of the scientific study of consciousness, and organizes some of the most important conferences on the subject. He is, among other things, one of the founding members of the Association for the Scientific Study of Consciousness. He is also one of the editors of the Stanford Encyclopedia of Philosophy. He recently gave the prestigious John Locke Conferences at Oxford.



Program:


June 19, 2015 from 14h30 to 16h30
New York University Paris, Auditorium
57, boulevard Saint-Germain 75005 Paris.

Spatial Illusions: From Mirrors to Virtual Reality

Abstract :
Do virtual reality devices produce the illusion of an external reality? Or do they produce non-illusory experiences of a virtual reality? I address this question by starting with an analogous question about mirrors. When one looks in a mirror, does one undergo the illusion that there is someone on the other side of the mirror, or does one have a non-illusory experience of someone on this side of the mirror? I will argue that at least for familiar users of mirrors, there is no illusion. Knowledge of mirrors provides a sort of cognitive orientation (a variety of cognitive penetration) that affects the content of visual experience and renders it non-illusory. I will suggest that familiar users of virtual reality devices have a similar sort of cognitive orientation that renders their experience non-illusory.

David Chalmers will receive the Jean Nicod prize after the lecture.


June 23d, 2015 from 14h30 to 16h30
École normale supérieure, Salle Jean Jaurès
29, rue d'Ulm 75005 Paris.

Three Puzzles About Spatial Experience

Abstract :
Is it possible that you have undergone a lifelong spatial illusion such that everything that seems to be on your left is actually on your right? Such that everything in the world is twice as big as it seems to be? Such that everything that seems square is actually an extended rectangle? I will argue that these lifelong illusions concerning orientation, size, and shape are impossible, and will use this to argue for a functionalist view of the content of spatial experience. I will use this analysis to shed light on puzzles about skepticismconcerning the external world.


June 25, 2015 from 14h30 to 16h30
École normale supérieure, Salle Jean Jaurès
29, rue d'Ulm 75005 Paris.

Finding Space in a Nonspatial World

Abstract :
What is the relation between space in the manifest image of perceptual experience and in the scientific image of physics? I will argue that as in the case of color, we have undergone a "fall from Eden" so that primitive space, as presented in experience, does not exist in the world of physics. But I will argue that we can find space there all the same by adopting a sort of spatial functionalism, on which space is identified as what plays a certain role. I will investigate different forms of spatial functionalism, on which the relevant roles are experiential (involving effects on our experience) and non-experiential (involving patterns of causal interactions). I conclude with a discussion of finding space in virtual reality.


June 30, 2015 from 14h30 to 16h30
École normale supérieure, Salle Jean Jaurès
29, rue d'Ulm 75005 Paris.

Structuralism about Computation, about Space, and about Reality

Abstract :
Structuralist views analyze a phenomena in terms of underlying structure. An important form of structuralism is causal structuralism, analyzing phenomena in terms of patterns of causal interaction. I have argued for a structuralist view of computation, on which what it is for a physical system to implement a computation is for it to have relevant patterns of causal structure. The considerations in the previous lectures also support a structuralist view of space and of many aspects of reality. In this lecture I elaborate this structuralism and use it to defend a view on which virtual reality is not second-class reality. I also make the case that structuralism can play a role analogous to that previously played by phenomenalism or idealism in making a case against global external-world skepticism.



If you are interested in attending the Jean-Nicod Lectures, you need to register (no registration fee). Please fill the form.
Download the program book here.
Institut Jean Nicod website


A new original seminar at the DEC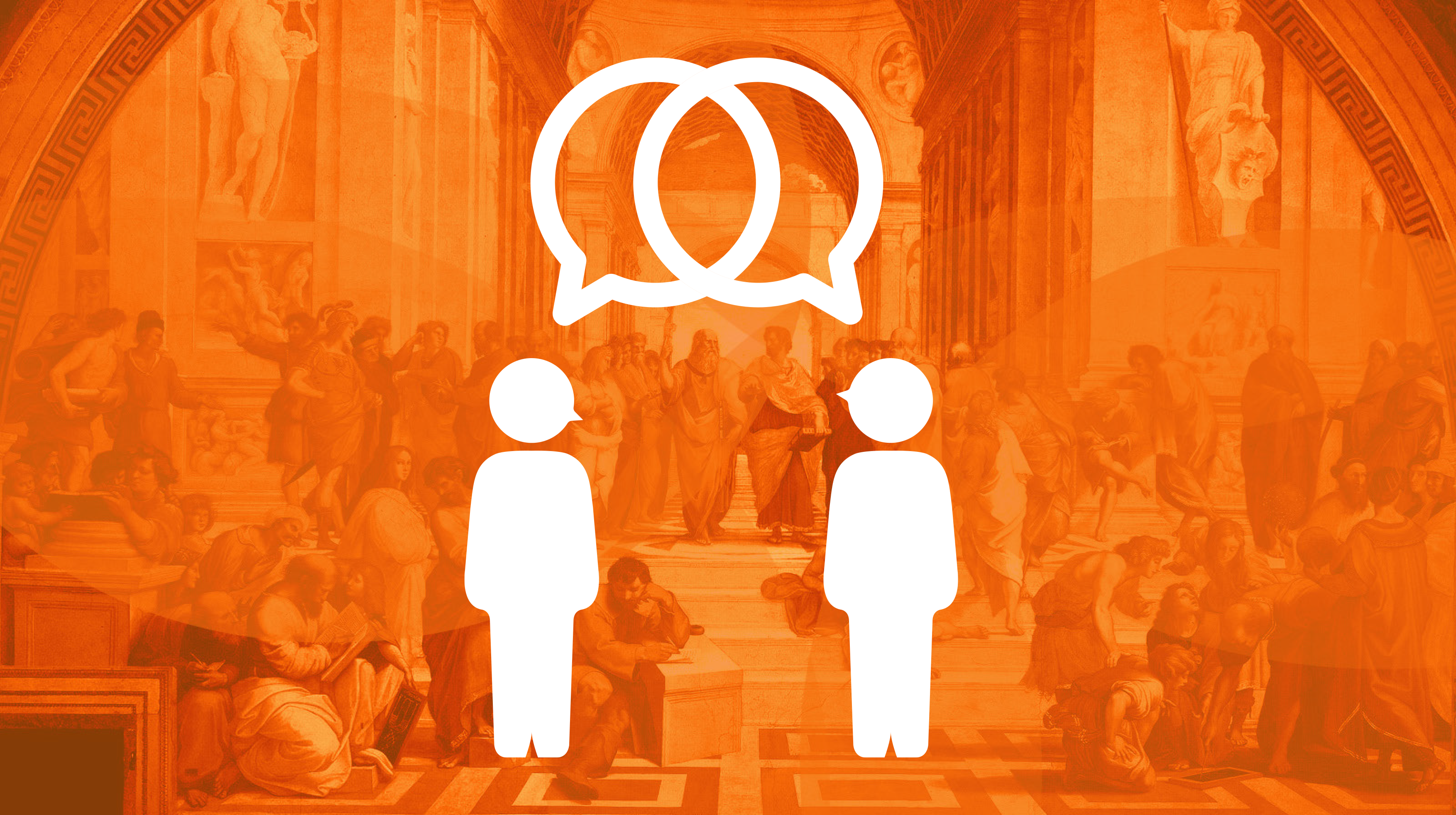 A group of DEC doctoral students, the Cognitive Science and Society group, is in the process of creating a series of seminars whose goal is to promote dialogue between the scientific and political communities.

A first round table centered on the question of "Expertise in public debate" will be held Monday June 22nd at 8 pm at the École Normale Supérieure, Salle Jean Jaurès (29 rue d'Ulm, basement level).

Frédéric Taddeï (journalist, and television and radio host), Wiktor Stoczkowski (researcher in the anthropology of knowledge at the Collège de France) and Frank Ramus (CNRS researcher in cognitive science at the DEC) will discuss freedom of expression, the role of experts, the place of science (and more specifically of cognitive science) in public debate, and the process of decision making.

This free event is open to the general public.

Facebook
Guillaume Dezecache, Pierre Jacob, Julie Grèzes (2015). Emotional contagion: its scope and limits. Trends in Cognitive Sciences.

Abstract:
The contagion model of emotional propagation has almost become a dogma in cognitive science. We turn here to the evolutionary approach to communicative interactions to probe the limits of the contagion model.
Jednoróg, K., Marchewka, A., Altarelli, I., Monzalvo, K., van Ermingen-Marbach, M., Grande, M., . . . Ramus, F. (2015). How reliable are grey matter disruptions in specific reading disability across multiple countries and languages? Insights from a large-scale voxel-based morphometry study. Human Brain Mapping, 36(5), 1741-1754.

Abstract:
The neural basis of specific reading disability (SRD) remains only partly understood. A dozen studies have used voxel-based morphometry (VBM) to investigate gray matter volume (GMV) differences between SRD and control children, however, recent meta-analyses suggest that few regions are consistent across studies. We used data collected across three countries (France, Poland, and Germany) with the aim of both increasing sample size (236 SRD and controls) to obtain a clearer picture of group differences, and of further assessing the consistency of the findings across languages. VBM analysis reveals a significant group difference in a single cluster in the left thalamus. Furthermore, we observe correlations between reading accuracy and GMV in the left supramarginal gyrus and in the left cerebellum, in controls only. Most strikingly, we fail to replicate all the group differences in GMV reported in previous studies, despite the superior statistical power. The main limitation of this study is the heterogeneity of the sample drawn from different countries (i.e., speaking languages with varying orthographic transparencies) and selected based on different assessment batteries. Nevertheless, analyses within each country support the conclusions of the cross-linguistic analysis. Explanations for the discrepancy between the present and previous studies may include: (1) the limited suitability of VBM to reveal the subtle brain disruptions underlying SRD; (2) insufficient correction for multiple statistical tests and flexibility in data analysis, and (3) publication bias in favor of positive results. Thus the study echoes widespread concerns about the risk of false-positive results inherent to small-scale VBM studies.
François Recanati, Inquiry, special issue, "Recanati on Mental Files" (vol. 58, number 4, may 2015).
Brent Strickland, Carlo Geraci, Emmanuel Chemla, Philippe Schlenkera, Meltem Kelepird, and Roland Pfaue (2015). Event representations constrain the structure of language: Sign language as a window into universally accessible linguistic biases. Proceedings of the National Academy of Sciences.

Abstract:
According to a theoretical tradition dating back to Aristotle, verbs can be classified into two broad categories. Telic verbs (e.g., "decide," "sell," "die") encode a logical endpoint, whereas atelic verbs (e.g., "think," "negotiate," "run") do not, and the denoted event could therefore logically continue indefinitely. Here we show that sign languages encode telicity in a seemingly universal way and moreover that even nonsigners lacking any prior experience with sign language understand these encodings. In experiments 1-5, nonsigning English speakers accurately distinguished between telic (e.g., "decide") and atelic (e.g., "think") signs from (the historically unrelated) Italian Sign Language, Sign Language of the Netherlands, and Turkish Sign Language. These results were not due to participants' inferring that the sign merely imitated the action in question. In experiment 6, we used pseudosigns to show that the presence of a salient visual boundary at the end of a gesture was sufficient to elicit telic interpretations, whereas repeated movement without salient boundaries elicited atelic interpretations. Experiments 7-10 confirmed that these visual cues were used by all of the sign languages studied here. Together, these results suggest that signers and nonsigners share universally accessible notions of telicity as well as universally accessible "mapping biases" between telicity and visual form.

Read "A word in the hand", The Economist, April 30, 2015.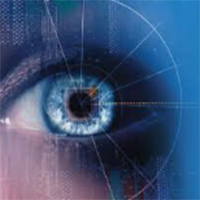 June 16,
Karl Gegenfurtner (Justus Liebig University Giessen, Germany): "Vision and eye movements"

Read more...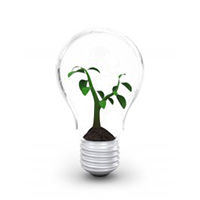 June 17, 2015
Pedro Muniz (IJN, Pontifícia Universidade Católica do Rio de Janeiro): "The dynamics of I-thoughts"

Read more...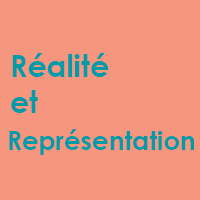 June 18, 2015
Trenton Merricks (University of Virginia): "Vagueness is not a Linguistic Phenomenon"

Read more...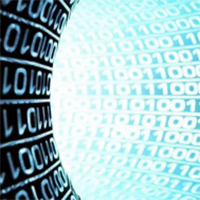 June 19, 23, 25, 30, 2015
Prix et Conférences Jean-Nicod 2015 - David CHALMERS (New York University)

Read more...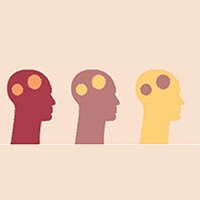 June 22, 2015
Duke-DEC Decision - Making & Consciousness workshop

Read more...
June 22, 2015
L'expertise dans le débat public

Read more...
June 25-26, 2015
PSL-UCL workshop on sensory systems in complex environments

Read more...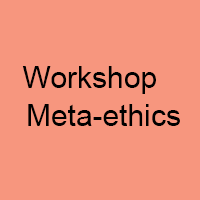 June 26, 2015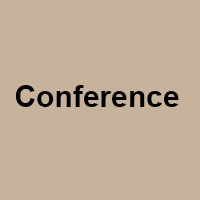 June 29, 2015
Alejandro Rosas (Université Nationale de Colombie): "Norms against harm and the moral domain"

Read more...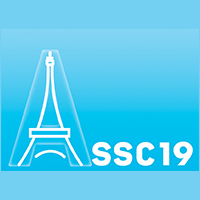 July 7-10, 2015
19th annual meeting of ASSC

Read more...
DEC calendar cognition.ens.Fr.
DEC Colloquium : http://www.cognition.ens.fr/ColloquiumAgendaENG.html.
Susbcribe to the newsletter
Unsubscribe from the newsletter