Catherine Tallon-Baudry, Visual Cognition Group / Laboratoire de Neurosciences Cognitives
Catherine Tallon-Baudry dirige l'équipe Visual Cognition Group du Laboratoire de Neurosciences Cognitives. Elle vient d'obtenir un financement ERC pour le projet Brain-Viscera Interactions Underlie Subjectivity (BRAVIUS).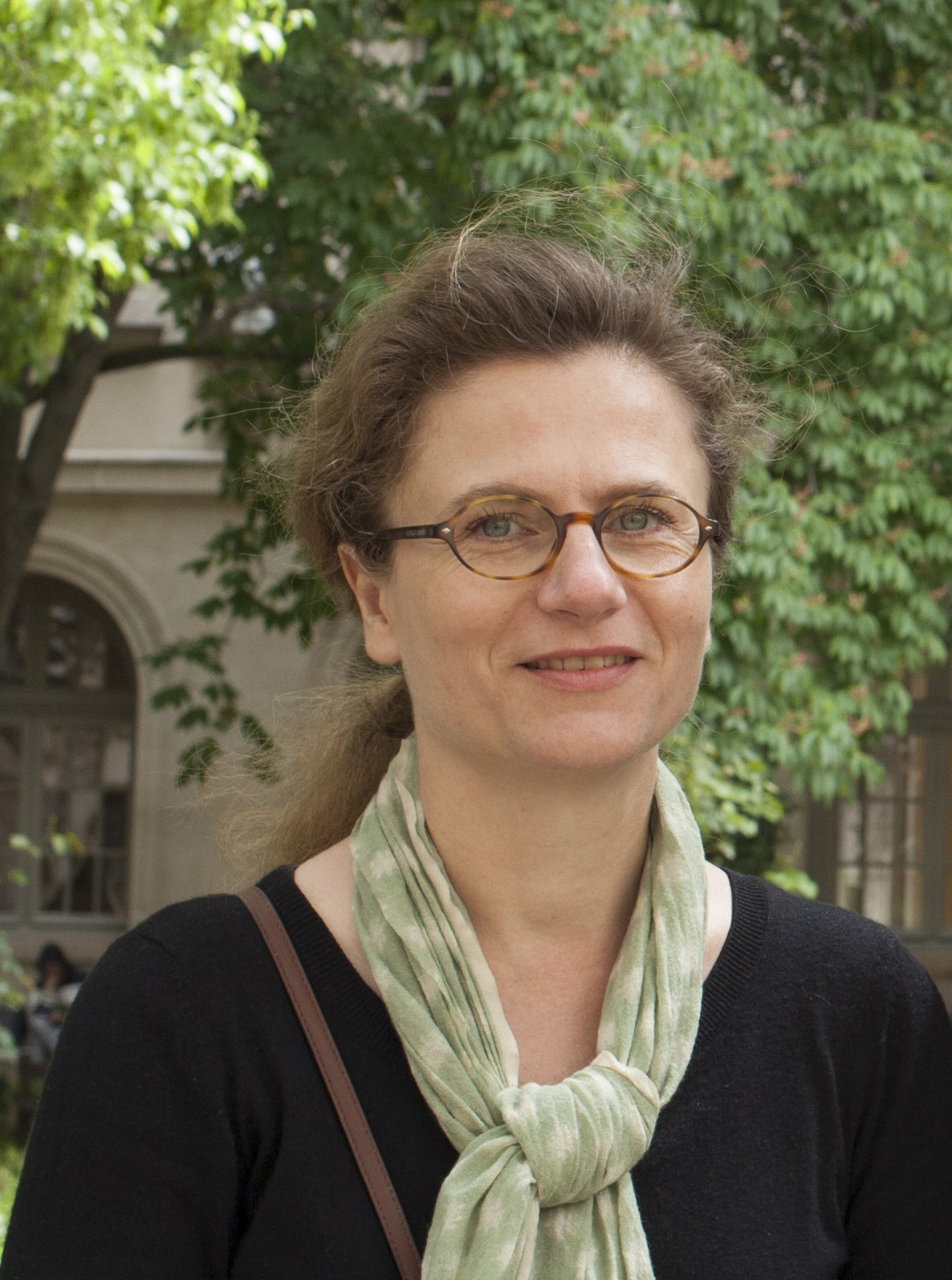 Après un parcours classique - classes préparatoires, Ecole Normale Supérieure de Lyon en Biologie, thèse à Lyon en Neurosciences Cognitives sur le rôle des oscillations gamma chez l'Homme - Catherine Tallon-Baudry travaille deux ans en Allemagne sur le Primate puis part à lyon. Quelques années après, elle rejoint l'Hôpital de la Pitié-Salpêtrière. Ses recherches la conduisent à se tourner vers le domaine de la conscience, et l'amènent à créer une nouvelle équipe au Département d'Etudes Cognitives en 2012: l'équipe Visual Cognition Group du Laboratoire de Neurosciences Cognitives (LNC).
Le Visual Cognition Group s'attache à comprendre comment les dynamiques du cerveau créent l'expérience visuelle aussi bien dans sa dimension cognitive que dans sa dimension subjective. L'équipe utilise en majeur partie la MEG et l'EEG sur des sujets sains, et également l'EEG intracrânien sur des patients épileptiques, combinées à des expériences comportementales. Le Visual Cognition Group a pour but de proposer une structure neurale de la vision consciente incluant à la fois les caractéristiques expérimentales et subjectives, et les capacités cognitives.
Au sein du DEC, les travaux de recherche de Catherine Tallon-Baudry bénéficient à la fois de l'environnement inter-disciplinaire indispensable à l'étude de la conscience ainsi que de l'expertise en neurosciences cognitives du LNC.

Catherine Tallon-Baudry vient de recevoir un financement ERC pour le projet BRAVIUS:

"Ce projet est basé sur un constat: la notion de subjectivité, bien que centrale pour comprendre l'esprit humain, n'est pas un concept présent en neurosciences cognitives, à la différence d'une notion comme l'attention par exemple. Pourtant la subjectivité est présente en filigrane dans de nombreuses études, sur la perception, les émotions ou les choix. Dans ce projet, je propose un mécanisme génératif de la subjectivité: les signaux électriques émis en permanence par des organes viscéraux comme le coeur ou l'estomac sont relayés jusqu'au cerveau. Ces signaux pourraient servir à générer un référentiel centré sur le sujet et donc servir de base au développement de la subjectivité. Expérimentalement le projet vise à étudier l'impact des signaux viscéraux sur la dynamique cérébrale et à tester le lien avec la subjectivité."

Catherine Tallon-Baudry s'est appuyée sur l'interdisciplinarité du DEC pour affiner son projet: "Mes collègues du DEC, de formation neuro, psycho ou philo, ont relu mon projet ERC avant sa soumission, leurs commentaires m'ont été très précieux."
Site internet du Laboratoire de Neurosciences Cognitives
Visual Cognition Group
Prix et Conférences Jean-Nicod 2015: David Chalmers (New York University)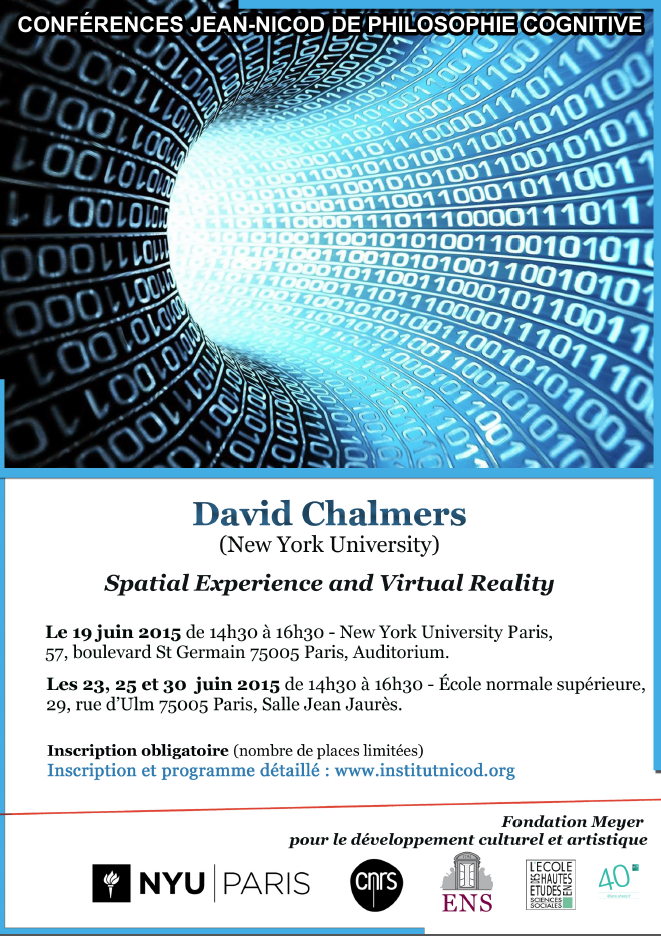 Les Conférences Jean-Nicod visent à promouvoir les recherches philosophiques se rapportant à la cognition et à faire connaître en France les travaux réalisés à l'étranger dans ce domaine. Le conférencier présente ses recherches au cours d'un cycle de quatre conférences qu'il rassemble ensuite en un livre.

David Chalmers, professeur de Philosophie et co-directeur du centre Mind, Brain, and consciousness à l'Université de New York, reçoit le Prix Jean Nicod 2015.

David Chalmers commença par étudier les mathématiques en Australie avant de se tourner vers un doctorat en philosophie et sciences cognitives à Indiana University. Il a ensuite enseigné à UCSC, University of Arizona, ainsi qu'à l'Australian National University, où il est Distinguished Professor of Philosophy. David Chalmers est connu pour ses travaux en philosophie de l'esprit, en philosophie des sciences cognitives et en métaphysique. Il a contribué à clarifier les problèmes que pose l'étude scientifique de la conscience. Dans plusieurs publications classiques, il soutient la théorie du dualisme naturaliste. Depuis une vingtaine d'années, ses recherches se sont focalisées sur les questions liées aux théories du contenu, au langage et à l'intelligence artificielle. Chalmers est l'un des principaux acteurs de la recherche pluridisciplinaire sur les fondements conceptuels et méthodologiques de l'étude scientifique de la conscience, organisant certaines des plus importantes conférences sur le sujet. Il est entre autres l'un des membres fondateurs de l'Association for the Scientific Study of Consciousness. Il est en outre l'un des éditeurs de la Stanford Encyclopedia of Philosophy. Il a récemment donné les prestigieuses conférences John Locke à Oxford.



Programme des conférences:


Vendredi 19 juin 2015 de 14h30 à 16h30
New York University Paris, Auditorium
57, boulevard Saint-Germain 75005 Paris.

Spatial Illusions: From Mirrors to Virtual Reality

Résumé :
Do virtual reality devices produce the illusion of an external reality? Or do they produce non-illusory experiences of a virtual reality? I address this question by starting with an analogous question about mirrors. When one looks in a mirror, does one undergo the illusion that there is someone on the other side of the mirror, or does one have a non-illusory experience of someone on this side of the mirror? I will argue that at least for familiar users of mirrors, there is no illusion. Knowledge of mirrors provides a sort of cognitive orientation (a variety of cognitive penetration) that affects the content of visual experience and renders it non-illusory. I will suggest that familiar users of virtual reality devices have a similar sort of cognitive orientation that renders their experience non-illusory.

David Chalmers recevra le Prix Jean-Nicod après la conférence.


Mardi 23 juin 2015 de 14h30 à 16h30
École normale supérieure, Salle Jean Jaurès
29, rue d'Ulm 75005 Paris.

Three Puzzles About Spatial Experience

Résumé :
Is it possible that you have undergone a lifelong spatial illusion such that everything that seems to be on your left is actually on your right? Such that everything in the world is twice as big as it seems to be? Such that everything that seems square is actually an extended rectangle? I will argue that these lifelong illusions concerning orientation, size, and shape are impossible, and will use this to argue for a functionalist view of the content of spatial experience. I will use this analysis to shed light on puzzles about skepticismconcerning the external world.


Jeudi 25 juin 2015 de 14h30 à 16h30
École normale supérieure, Salle Jean Jaurès
29, rue d'Ulm 75005 Paris.

Finding Space in a Nonspatial World

Résumé :
What is the relation between space in the manifest image of perceptual experience and in the scientific image of physics? I will argue that as in the case of color, we have undergone a "fall from Eden" so that primitive space, as presented in experience, does not exist in the world of physics. But I will argue that we can find space there all the same by adopting a sort of spatial functionalism, on which space is identified as what plays a certain role. I will investigate different forms of spatial functionalism, on which the relevant roles are experiential (involving effects on our experience) and non-experiential (involving patterns of causal interactions). I conclude with a discussion of finding space in virtual reality.


Mardi 30 juin 2015 de de 14h30 à 16h30
École normale supérieure, Salle Jean Jaurès
29, rue d'Ulm 75005 Paris.

Structuralism about Computation, about Space, and about Reality

Résumé :
Structuralist views analyze a phenomena in terms of underlying structure. An important form of structuralism is causal structuralism, analyzing phenomena in terms of patterns of causal interaction. I have argued for a structuralist view of computation, on which what it is for a physical system to implement a computation is for it to have relevant patterns of causal structure. The considerations in the previous lectures also support a structuralist view of space and of many aspects of reality. In this lecture I elaborate this structuralism and use it to defend a view on which virtual reality is not second-class reality. I also make the case that structuralism can play a role analogous to that previously played by phenomenalism or idealism in making a case against global external-world skepticism.



L'inscription est obligatoire pour assister aux conférences Jean-Nicod. Merci de remplir le formulaire suivant.
Téléchargez la brochure des conférences ici.
Site internet de l'Institut Jean nicod


Un nouveau séminaire original au DEC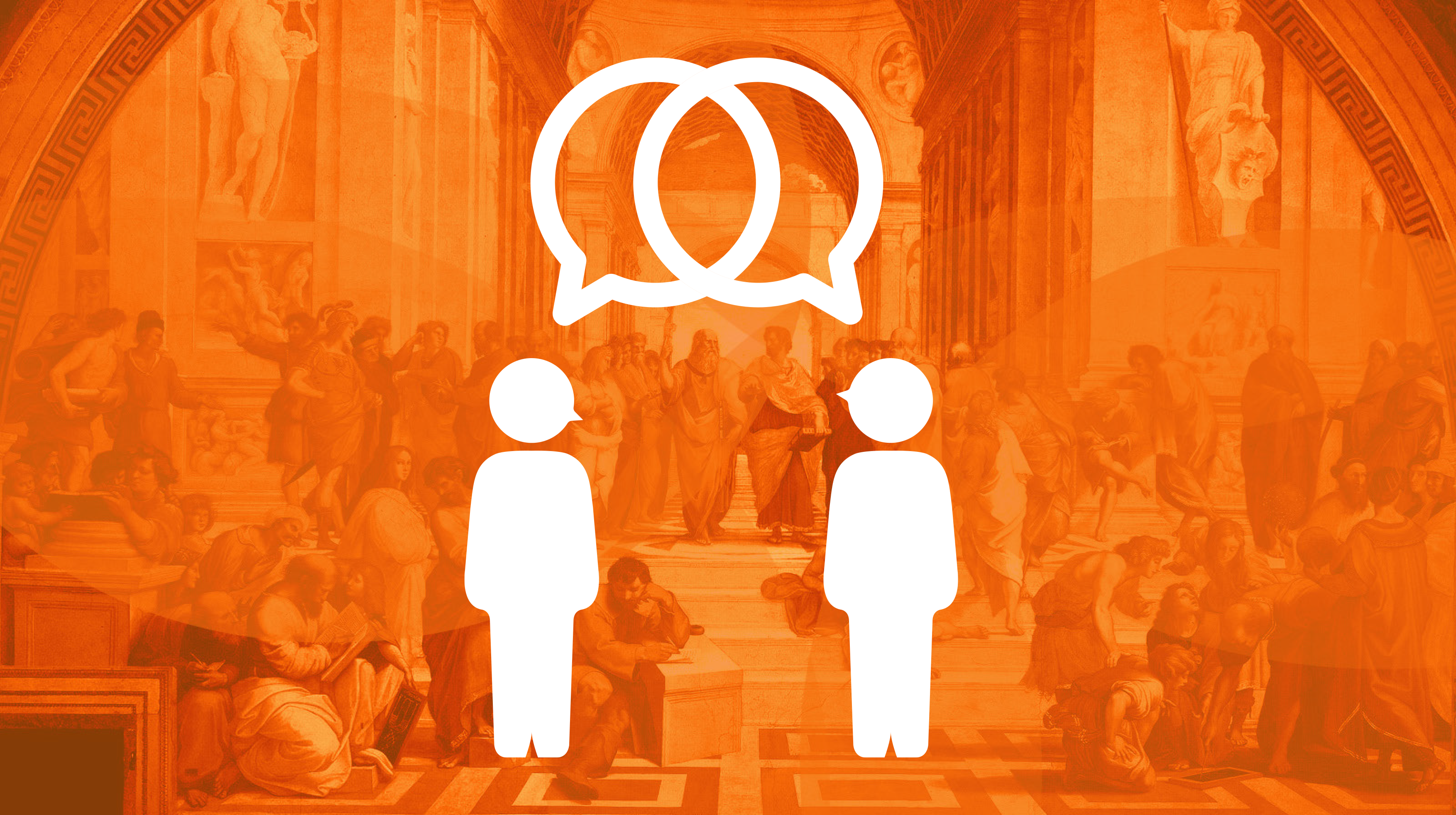 Un collectif de doctorants du Département d'Etudes Cognitives, le collectif Sciences Cognitives et Société, est en train de mettre en place une série de séminaires dans le but de promouvoir le dialogue entre les communautés scientifiques et politiques.

Une première table ronde sur la question de l'expertise dans le débat public aura lieu le lundi 22 juin à 20h à l'École Normale Supérieure, Salle Jean Jaurès (29 rue d'Ulm, premier sous-sol).

Frédéric Taddeï (journaliste, animateur de télévision/radio), Wiktor Stoczkowski (chercheur en anthropologie de la connaissance au Collège de France) et Frank Ramus (chercheur en sciences cognitives à l'ENS, CNRS) discuteront de la liberté d'expression, du rôle de l'expert, de la place de la science en général et des sciences cognitives en particulier dans le débat public et les processus de prise de décision.

Cette manifestation gratuite est ouverte au grand public.

Facebook
Guillaume Dezecache, Pierre Jacob, Julie Grèzes (2015). Emotional contagion: its scope and limits. Trends in Cognitive Sciences.

Abstract:
The contagion model of emotional propagation has almost become a dogma in cognitive science. We turn here to the evolutionary approach to communicative interactions to probe the limits of the contagion model.
Jednoróg, K., Marchewka, A., Altarelli, I., Monzalvo, K., van Ermingen-Marbach, M., Grande, M., . . . Ramus, F. (2015). How reliable are grey matter disruptions in specific reading disability across multiple countries and languages? Insights from a large-scale voxel-based morphometry study. Human Brain Mapping, 36(5), 1741-1754.

Abstract:
The neural basis of specific reading disability (SRD) remains only partly understood. A dozen studies have used voxel-based morphometry (VBM) to investigate gray matter volume (GMV) differences between SRD and control children, however, recent meta-analyses suggest that few regions are consistent across studies. We used data collected across three countries (France, Poland, and Germany) with the aim of both increasing sample size (236 SRD and controls) to obtain a clearer picture of group differences, and of further assessing the consistency of the findings across languages. VBM analysis reveals a significant group difference in a single cluster in the left thalamus. Furthermore, we observe correlations between reading accuracy and GMV in the left supramarginal gyrus and in the left cerebellum, in controls only. Most strikingly, we fail to replicate all the group differences in GMV reported in previous studies, despite the superior statistical power. The main limitation of this study is the heterogeneity of the sample drawn from different countries (i.e., speaking languages with varying orthographic transparencies) and selected based on different assessment batteries. Nevertheless, analyses within each country support the conclusions of the cross-linguistic analysis. Explanations for the discrepancy between the present and previous studies may include: (1) the limited suitability of VBM to reveal the subtle brain disruptions underlying SRD; (2) insufficient correction for multiple statistical tests and flexibility in data analysis, and (3) publication bias in favor of positive results. Thus the study echoes widespread concerns about the risk of false-positive results inherent to small-scale VBM studies.
François Recanati, Inquiry, numéro spécial, "Recanati on Mental Files" (volume 58, number 4, may 2015).
Brent Strickland, Carlo Geraci, Emmanuel Chemla, Philippe Schlenkera, Meltem Kelepird, and Roland Pfaue (2015). Event representations constrain the structure of language: Sign language as a window into universally accessible linguistic biases. Proceedings of the National Academy of Sciences.

Abstract:
According to a theoretical tradition dating back to Aristotle, verbs can be classified into two broad categories. Telic verbs (e.g., "decide," "sell," "die") encode a logical endpoint, whereas atelic verbs (e.g., "think," "negotiate," "run") do not, and the denoted event could therefore logically continue indefinitely. Here we show that sign languages encode telicity in a seemingly universal way and moreover that even nonsigners lacking any prior experience with sign language understand these encodings. In experiments 1-5, nonsigning English speakers accurately distinguished between telic (e.g., "decide") and atelic (e.g., "think") signs from (the historically unrelated) Italian Sign Language, Sign Language of the Netherlands, and Turkish Sign Language. These results were not due to participants' inferring that the sign merely imitated the action in question. In experiment 6, we used pseudosigns to show that the presence of a salient visual boundary at the end of a gesture was sufficient to elicit telic interpretations, whereas repeated movement without salient boundaries elicited atelic interpretations. Experiments 7-10 confirmed that these visual cues were used by all of the sign languages studied here. Together, these results suggest that signers and nonsigners share universally accessible notions of telicity as well as universally accessible "mapping biases" between telicity and visual form.

Lire l'article "A word in the hand" paru dans The Economist le 30 avril 2015.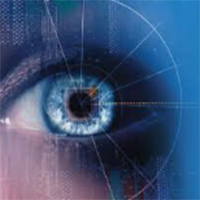 16 juin
Karl Gegenfurtner (Justus Liebig University Giessen, Germany): "Vision and eye movements"

En savoir plus...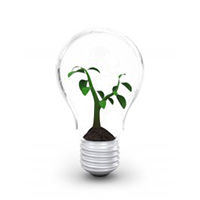 17 juin 2015
Pedro Muniz (IJN, Pontifícia Universidade Católica do Rio de Janeiro): "The dynamics of I-thoughts"

En savoir plus...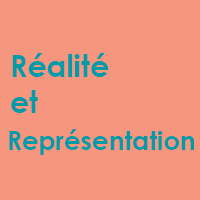 18 juin 2015
Trenton Merricks (University of Virginia): "Vagueness is not a Linguistic Phenomenon"

En savoir plus...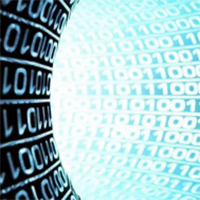 19, 23, 25, 30 juin 2015
Prix et Conférences Jean-Nicod 2015 - David CHALMERS (New York University)

En savoir plus...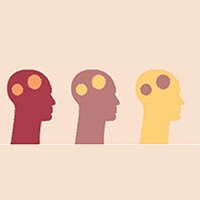 22 juin 2015
Duke-DEC Decision - Making & Consciousness workshop

En savoir plus...
22 juin 2015
25-26 juin 2015
PSL-UCL workshop on sensory systems in complex environments

En savoir plus...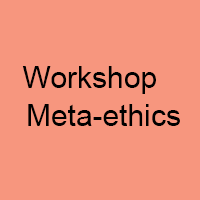 26 juin 2015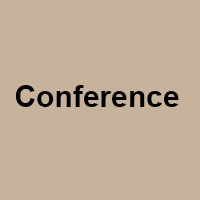 29 juin 2015
Alejandro Rosas (Université Nationale de Colombie): "Norms against harm and the moral domain"

En savoir plus...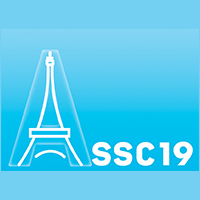 7-10 juillet 2015
Retrouvez l'agenda du DEC sur le site internet du département.
Retrouvez le programme, les archives et les enregistrements audio du colloquium du DEC sur le site du département.