First round of expeditions for the "Adaptation" project begins: following and testing a lone explorer.
The expedition

Adaptation 4x30 is a truly unique expedition: four successive journeys to some of the most difficult regions on Earth: the Dasht-e Loot desert of Iran (hot and dry), the Straits of Magellan of Chile (cold and wet), the Amazonian rainforest of Brazil (hot and wet), and Eastern Siberia in Russia (cold and dry). Each trip will last thirty days and will allow scientists to better understand humans' cognitive and physiological capacity to adapt to extreme conditions. This expedition is led by explorer Christian Clot, in partnership with a host of laboratories and research teams, under the supervision of Etienne Koechlin, head of the Laboratoire de Neurosciences Cognitives (LNC). Koechlin is supported by Margaux Romand-Monnier, doctoral student at the DEC, and Katia Dauchot, neurobiologist.

Scientific goals

The goal is to study how the human brain and associated cognitive functions adapt to the environment in which the individual lives. "We actually know very little about the influence environmental factors can have on cerebral physiology and human cognition, even though these factors are likely to drastically evolve, and humans will be forced to explore and live in more and more severe environments," explains Koechlin. "The study will be focused on executive functions associated with the frontal lobe, specifically judgment and decision making, taking into consideration cognitive, emotional, as well as social dimensions."

Methodology

The first part of the project will follow and test a lone explorer, Christian Clot, before a group of twenty individuals is tested in the same conditions next year. "The physical adaptations of the brain will be studied using neuroimaging exams before and after each trip. Behavioral tests will also be performed before and after as well as during the whole trip. The link between the physiological, structural, and functional adaptations will be analyzed to help us understand the neural mechanisms responsible for the adaptation of executive functions and observed changes in behavior. We will also study how these adaptations vary across individuals, especially as a function of gender (male/female), and the position of the person within the group."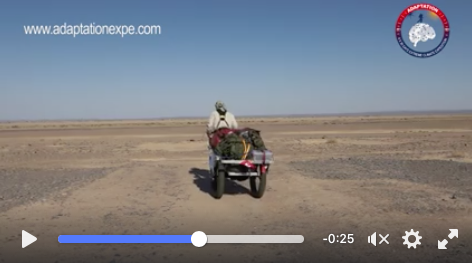 First journey: The Dasht-e Loot desert of Iran

Christian Clot's first journey was to the Dasht-e Loot desert of Iran. A trek of 500 km, in the hottest, driest place on Earth. Over three days, he made his way across the desert accompanied by a scientific team, including Etienne Koechlin (LNC), ending up totally alone. Clot was faced with extreme conditions: over 57°C heat (over 70°C on the ground), less than 3% humidity, hot, violent winds battering him with pebbles, and ever-changing terrain. He pulled a cart which held a load of 150 kg: the material required for scientific field projects, food, and water. "It's quite intense, and it's really rare to be exposed to such temperatures; it really tests your personal limits as a human being," he explained during Marc-Olivier Fogiel's show on RTL in September. "You can't just show up in the desert, you really have to find a way to evolve. You quickly figure out just how helpless we can be," he added. "But little by little, and this is exactly the adaptation that we're looking to understand, you find your way, you figure out how to get along." From 10am to 5pm he remained in a shelter, waiting for the temperatures to go down. "There was only 2% humidity."


At his return to France, Clot did magnetic resonance imaging (MRI) on his brain. Data from the different scientific field protocols were analyzed and, if necessary, modified in order to better address the field goals of the mission.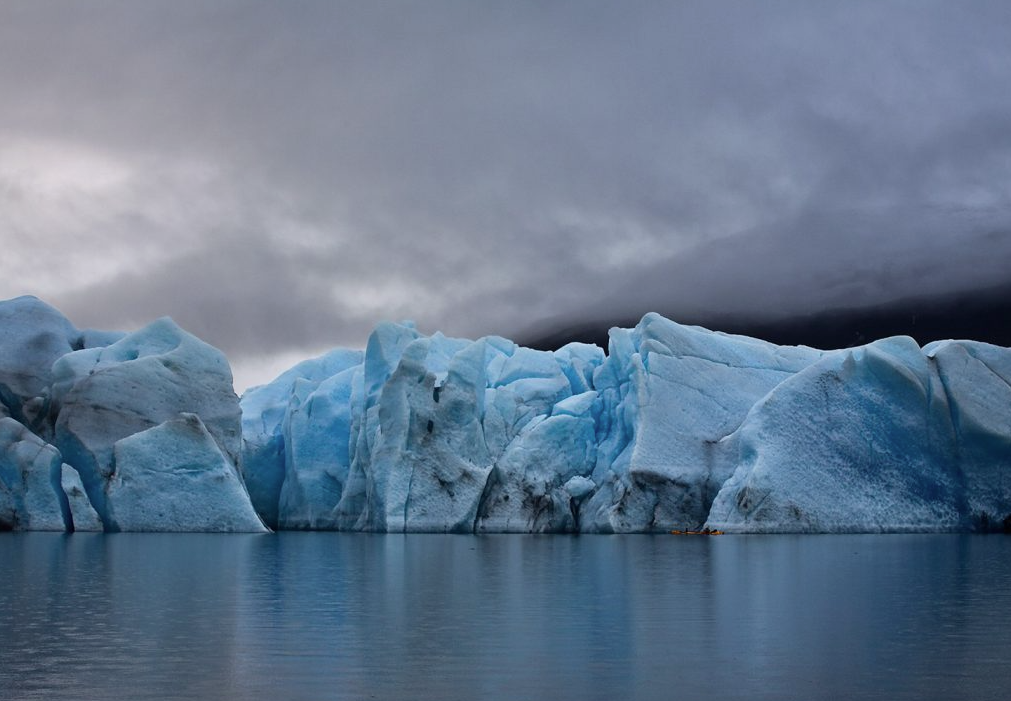 Clot is now in the coldest, wettest region of the planet: the marine straits of Patagonnia. For 30 days, he will navigate these channels and fjords in a kayak, surrounded by glaciers, forests, and mountains, where temperatures drop to below -15°C, with humidity surpassing 90% and up to 800mm of rain a month

Science is an adventure. Adaptation 4x30 reminds us of this scientific tradition.

Follow the expedition on Facebook
Expedition website

Photos
Agence Zeppelin - Bruno Valentin
06 82 07 87 90 - contact@zeppelin-geo.com
ATIP-Avenir program - Interview with Stefano Palminteri (LNC)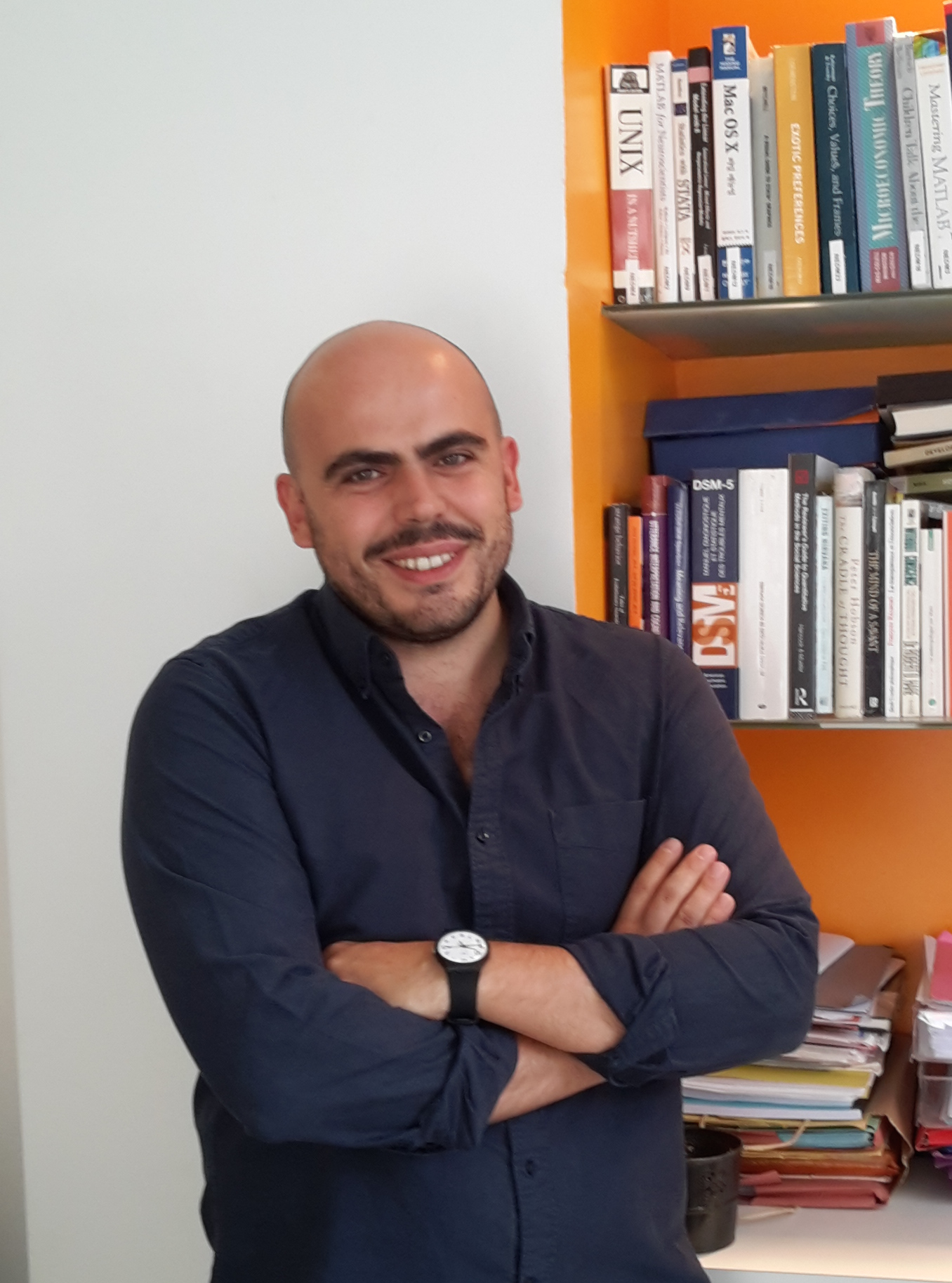 You have just received funding from the ATIP-Avenir program. Before telling us more about the program, can you tell us a little about personal history?

I did my PhD in cognitive neuroscience at the Institut du Cerveau et de la Moelle Epinère at the Pitié-Salpêtrière Hospital in Paris, under the supervision of Mathias Pessiglione. After my PhD, I did two postdocs: a first (for a year) at the DEC, with Giorgio Coricelli, and a second (for two years, thanks to a Marie Curie grant) at University College London, with Sarah-Jayne Blakemore. Overall, my work focuses on learning and decision-making based on expected rewards or punishments. This is a field that has recently been named "neuro-economy". During my postdocs, I developed a new model of learning that I tested with both behavioral and neuroimaging experiments. I then studied the development of this model in teenagers.

The Inserm-CNRS ATIP-Avenir program was created to provide financial support to young researchers with research programs showing innovation and the promise of excellence in the fields of life and health sciences. What was the selection process like?

The main eligibility criterion is to have defended your thesis within the last ten years. First, you have to prepare a ten-page application, accompanied by a detailed CV. There is then a preselection done by an international scientific committee made up of the most knowledgeable experts in life science. The selected candidates are invited for an oral defense. The defense has two phases: a ten minute scientific presentation in front of an international panel, followed by an interview with the heads of human resources of Inserm and the CNRS.

Thanks to this funding, you are going to be able to set up your own research team within the LNC, the host lab for your ATIP-Avenir project. Can you tell us more about the funding? Given that the LNC is the team's host lab, what kind of support do they provide?

The ATIP-Avenir funding covers three years, and can be extended for an additional two. It includes my salary, an annual allowance of 60,000€, and the salary of a postdoctoral fellow. The Laboratoire de Neurosciences Cognitives (LNC) provides various resources, like their powerful computing clusters, EEG recording systems, and most of all, a very knowledgeable technical and administrative staff. Beyond the human and material resources, the LNC also provides an incredibly unique and stimulating scientific environment.

Can you tell us about your team ? What research project(s) are you planning on working on?

My team will work on bias in learning and decision making by using computational modeling and neural imaging. We will study these processes in healthy subjects and in psychiatric patients. Currently, my brand-new team is made up of a PhD student that I am co-supervising and two second-year master's students. The funding for a postdoctoral fellow will only become available in 2017. I will work closely with Valentin Wyart, an Inserm researcher who works on decision making and Baysian modeling at the LNC, and Valérian Chambon, a CNRS researcher at the Institut Jean Nicod (IJN) who works on decision making and action. The team will be part of a project attempting to expand neuro-economy research within the DEC.

Having the title ATIP-Avenir project is a well-known mark of excellence. Beyond the fact that it allows you to finance your project, what is the impact of having this label on your work? And your career?

Given its format and the rigorous international selection process, getting ATIP-Avenir funding is an important boost that will help when applying for more ambitious European funding, such as those offered by the ERC. According to the statistics, 95% of laureates obtain a permanent position: I hope to be part of that figure…

What advice would you give to a young researcher looking to apply for similar funding?

I have the feeling the ATIP-Avenir program really likes interdisciplinary projects with possible clinical and societal applications. These are important aspects to keep in mind during the creation of your project.

Stefano Palminteri's website
Scalp! Education meetups begin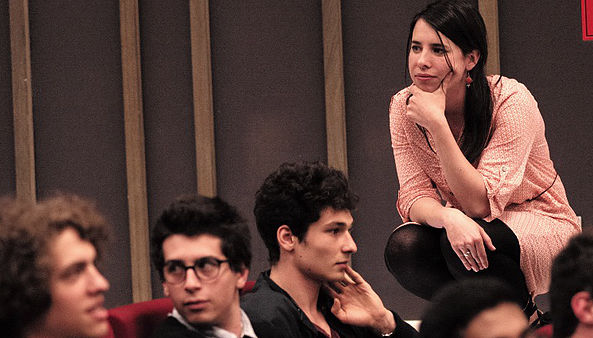 The first Scalp! Education meetup will happen in October at a middle school in Puteaux that Scalp! will be working with throughout the year. During the first meetup, Charlotte Vandendriessche, psychiatrist and PhD student in cognitive science, will discuss with teachers about "outside of the box" students.
The Scalp! Education meetups are designed to be extremely informal, starting off with specific practical questions from the teaching staff. Each meetup will be led by an invited expert and will give participants the opportunity to discuss a new topic. The idea of these meetups is first and foremost to test this new method and the topics discussed with hopes of designing a way to exchange ideas that can be exported to other institutions.

Learn more about the project on Scalp!s website
Funding from the Agir pour l'audition Foundation
Franck Ramus has received funding from the Agir pour l'audition Foundation for the project "Cortical oscillations and auditory processing in developmental dyslexia"


ANR Funding
Four DEC members have received funding from the French National Agency for Research (ANR).

In the young researcher category:
Valérian Chambon (IJN) for his project "Being an agent in an uncertain world: a neuro-computational approach"
Srdjan Ostojic (LNC/GNT) for his projecy "Neuronal mechanisms of temporal discrimination in human auditory cortex"

In the generic category:
Elisabeth Pacherie (IJN) for her project "Meaning and agentivity in collective action"

In the ASTRID category (in partnership with the French military):
Jérôme Sackur (LSCP) for his project "The impact of stress on decision making and metacognition: applications in aeronautics".
Mariana Babo-Rebelo, Craig G. Richter, Catherine Tallon-Baudry, (27 July 2016), Neural Responses to Heartbeats in the Default Network Encode the Self in Spontaneous Thoughts, The Journal of Neuroscience

Abstract :
The default network (DN) has been consistently associated with self-related cognition, but also to bodily state monitoring and autonomic regulation. We hypothesized that these two seemingly disparate functional roles of the DN are functionally coupled, in line with theories proposing that selfhood is grounded in the neural monitoring of internal organs, such as the heart. We measured with magnetoencephalograhy neural responses evoked by heartbeats while human participants freely mind-wandered. When interrupted by a visual stimulus at random intervals, participants scored the self-relatedness of the interrupted thought. They evaluated their involvement as the first-person perspective subject or agent in the thought ("I"), and on another scale to what degree they were thinking about themselves ("Me"). During the interrupted thought, neural responses to heartbeats in two regions of the DN, the ventral precuneus and the ventromedial prefrontal cortex, covaried, respectively, with the "I" and the "Me" dimensions of the self, even at the single-trial level. No covariation between self-relatedness and peripheral autonomic measures (heart rate, heart rate variability, pupil diameter, electrodermal activity, respiration rate, and phase) or alpha power was observed. Our results reveal a direct link between selfhood and neural responses to heartbeats in the DN and thus directly support theories grounding selfhood in the neural monitoring of visceral inputs. More generally, the tight functional coupling between self-related processing and cardiac monitoring observed here implies that, even in the absence of measured changes in peripheral bodily measures, physiological and cognitive functions have to be considered jointly in the DN.
Anatoly Buchin, Sarah Rieubland, Michael Häusser, Boris S. Gutkin, Arnd Roth (2016), Inverse Stochastic Resonance in Cerebellar Purkinje Cells - PLOS Computational Biology

Abstract:
Purkinje neurons play an important role in cerebellar computation since their axons are the only projection from the cerebellar cortex to deeper cerebellar structures. They have complex internal dynamics, which allow them to fire spontaneously, display bistability, and also to be involved in network phenomena such as high frequency oscillations and travelling waves. Purkinje cells exhibit type II excitability, which can be revealed by a discontinuity in their f-I curves. We show that this excitability mechanism allows Purkinje cells to be efficiently inhibited by noise of a particular variance, a phenomenon known as inverse stochastic resonance (ISR). While ISR has been described in theoretical models of single neurons, here we provide the first experimental evidence for this effect. We find that an adaptive exponential integrate-and-fire model fitted to the basic Purkinje cell characteristics using a modified dynamic IV method displays ISR and bistability between the resting state and a repetitive activity limit cycle. ISR allows the Purkinje cell to operate in different functional regimes: the all-or-none toggle or the linear filter mode, depending on the variance of the synaptic input. We propose that synaptic noise allows Purkinje cells to quickly switch between these functional regimes. Using mutual information analysis, we demonstrate that ISR can lead to a locally optimal information transfer between the input and output spike train of the Purkinje cell. These results provide the first experimental evidence for ISR and suggest a functional role for ISR in cerebellar information processing.
Matthew Chalk, Boris Gutkin, Sophie Denève (2016), Neural oscillations as a signature of efficient coding in the presence of synaptic delays - eLife 2016;5:e13824

Abstract:
Cortical networks exhibit 'global oscillations', in which neural spike times are entrained to an underlying oscillatory rhythm, but where individual neurons fire irregularly, on only a fraction of cycles. While the network dynamics underlying global oscillations have been well characterised, their function is debated. Here, we show that such global oscillations are a direct consequence of optimal efficient coding in spiking networks with synaptic delays and noise. To avoid firing unnecessary spikes, neurons need to share information about the network state. Ideally, membrane potentials should be strongly correlated and reflect a 'prediction error' while the spikes themselves are uncorrelated and occur rarely. We show that the most efficient representation is when: (i) spike times are entrained to a global Gamma rhythm (implying a consistent representation of the error); but (ii) few neurons fire on each cycle (implying high efficiency), while (iii) excitation and inhibition are tightly balanced. This suggests that cortical networks exhibiting such dynamics are tuned to achieve a maximally efficient population code.
Stefano Palminteri, Emma J. Kilford, Giorgio Coricelli, Sarah-Jayne Blakemore (2016, June 20), The Computational Development of Reinforcement Learning during Adolescence, PLOS Computational Biology.

Abstract:
Adolescence is a period of life characterised by changes in learning and decision-making. Learning and decision-making do not rely on a unitary system, but instead require the coordination of different cognitive processes that can be mathematically formalised as dissociable computational modules. Here, we aimed to trace the developmental time-course of the computational modules responsible for learning from reward or punishment, and learning from counterfactual feedback. Adolescents and adults carried out a novel reinforcement learning paradigm in which participants learned the association between cues and probabilistic outcomes, where the outcomes differed in valence (reward versus punishment) and feedback was either partial or complete (either the outcome of the chosen option only, or the outcomes of both the chosen and unchosen option, were displayed). Computational strategies changed during development: whereas adolescents' behaviour was better explained by a basic reinforcement learning algorithm, adults' behaviour integrated increasingly complex computational features, namely a counterfactual learning module (enabling enhanced performance in the presence of complete feedback) and a value contextualisation module (enabling symmetrical reward and punishment learning). Unlike adults, adolescent performance did not benefit from counterfactual (complete) feedback. In addition, while adults learned symmetrically from both reward and punishment, adolescents learned from reward but were less likely to learn from punishment. This tendency to rely on rewards and not to consider alternative consequences of actions might contribute to our understanding of decision-making in adolescence.
Craig G. Richtera, Mariana Babo-Rebeloa, Denis Schwartzc, Catherine Tallon-Baudry (2016), Phase-amplitude coupling at the organism level: The amplitude of spontaneous alpha rhythm fluctuations varies with the phase of the infra-slow gastric basal rhythm. NeuroImage.

Abstract:
A fundamental feature of the temporal organization of neural activity is phase-amplitude coupling between brain rhythms at different frequencies, where the amplitude of a higher frequency varies according to the phase of a lower frequency. Here, we show that this rule extends to brain-organ interactions. We measured both the infra-slow (~0.05 Hz) rhythm intrinsically generated by the stomach – the gastric basal rhythm – using electrogastrography, and spontaneous brain dynamics with magnetoencephalography during resting-state with eyes open. We found significant phase-amplitude coupling between the infra-slow gastric phase and the amplitude of the cortical alpha rhythm (10–11 Hz), with gastric phase accounting for 8% of the variance of alpha rhythm amplitude fluctuations. Gastric-alpha coupling was localized to the right anterior insula, and bilaterally to occipito-parietal regions. Transfer entropy, a measure of directionality of information transfer, indicates that gastric-alpha coupling is due to an ascending influence from the stomach to both the right anterior insula and occipito-parietal regions. Our results show that phase-amplitude coupling so far only observed within the brain extends to brain-viscera interactions. They further reveal that the temporal structure of spontaneous brain activity depends not only on neuron and network properties endogenous to the brain, but also on the slow electrical rhythm generated by the stomach.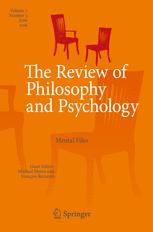 Review of Philosophy and Psychology
Volume 7, Issue 2, June 2016
Mental Files
Issue Editors: Michael Murez, François Recanati
ISSN: 1878-5158 (Print) 1878-5166 (Online)
Roux, P., Smith, P., Passerieux, C., & Ramus, F. (2016). Preserved implicit mentalizing in schizophrenia despite poor explicit performance: evidence from eye tracking. Scientific Reports, 6, 34728. https://doi.org/10.1038/srep34728

Abstract: Schizophrenia has been characterized by an impaired mentalizing. It has been suggested that distinguishing implicit from explicit processes is crucial in social cognition, and only the latter might be affected in schizophrenia. Two other questions remain open: (1) Is schizophrenia characterized by an hypo- or hyper attribution of intentions? (2) Is it characterized by a deficit in the attribution of intention or of contingency? To test these three questions, spontaneous mentalizing was tested in 29 individuals with schizophrenia and 29 control subjects using the Frith-Happé animations, while eye movements were recorded. Explicit mentalizing was measured from participants' verbal descriptions and was contrasted with implicit mentalizing measured through eye tracking. As a group, patients made less accurate and less intentional descriptions of the goal-directed and theory of mind animations. No group differences were found in the attribution of contingency. Eye tracking results revealed that patients and controls showed a similar modulation of eye movements in response to the mental states displayed in the Frith-Happé animations. To conclude, in this paradigm, participants with schizophrenia showed a dissociation between explicit and implicit mentalizing, with a decrease in the explicit attribution of intentions, whereas their eye movements suggested a preserved implicit perception of intentions.

Saksida, A., Iannuzzi, S., Bogliotti, C., Chaix, Y., Démonet, J. F., Bricout, L., … Ramus, F. (2016). Phonological skills, visual attention span, and visual stress in developmental dyslexia: insights from a population of French children, Developmental Psychology, 52(10), 1503–1516

Abstract:
In this study, we concurrently investigated 3 possible causes of dyslexia—a phonological deficit, visualstress, and a reduced visual attention span—in a large population of 164 dyslexic and 118 control French children, aged between 8 and 13 years old. We found that most dyslexic children showed a phonologicaldeficit, either in terms of response accuracy (92.1% of the sample), speed (84.8%), or both (79.3%).Deficits in visual attention span, as measured by partial report ability, affected 28.1% of dyslexicparticipants, all of which also showed a phonological deficit. Visual stress, as measured by subjectivereports of visual discomfort, affected 5.5% of dyslexic participants, not more than controls (8.5%).Although phonological variables explained a large amount of variance in literacy skills, visual variablesdid not explain any additional variance. Finally, children with comorbid phonological and visual deficitsdid not show more severe reading disability than children with a pure phonological deficit. These results(a) confirm the importance of phonological deficits in dyslexia; (b) suggest that visual attention span mayplay a role, but a minor one, at least in this population; (c) do not support any involvement of visual stressin dyslexia. Among the factors that may explain some differences with previously published studies, the present sample is characterized by very stringent inclusion criteria, in terms of the severity of readingdisability and in terms of exclusion of comorbidities. This may exacerbate the role of phonologicaldeficits to the detriment of other factors playing a role in reading acquisition.